Is it necessary to use anti-virus software for your Mac?
---
Is Your Mac Really Safe?
Macs are less susceptible to viruses, but are still vulnerable to malware if they are hacked.
Macs can be completely infected with viruses as more and more malicious software targeting Mac users has been discovered and tends to increase. Some MacOS security holes can also be exploited by bad actors.
Macs are always appreciated by users for safety because the MacOS operating system has many restrictions on read and write permissions on system files at user and group levels.
In addition to antivirus software, Macs include Gatekeeper, a dedicated "firewall" system that filters out apps developed by app makers that don't have Apple-authenticated certificates.
MacOS also requires you to enter a password every time you are about to install software or change a certain system-related setting.
Tips to use MacOS more safely
Mac also offers built-in security measures to help fight malware, including:
Gatekeeper: If software that has been digitally approved by your Mac tries to run on your computer, GateKeeper will block it until you provide authorization for it to continue.
XProtect: The XProtect feature detects known malware and automatically blocks its installation. This feature is constantly updated with the latest malware signatures. It monitors for new malware infections (and strains) and, if any are found, XProtect is updated. These updates happen separately from system updates, so you don't have to wait to be protected from new malware.
Malware Removal Tool: In case malware finds its way into the system, MacOS technology can fix the infection. Known malware removal occurs with each system update.
It is important that you install updates as soon as possible to keep your system safe. Macs offer automatic security updates, but you need to make sure they're turned on. To check, just follow these steps:
– Click on the Apple icon found in the top left corner of your screen and then go to System Preferences.
– Open the App Store. Finally, make sure that all update option boxes are checked, as shown below.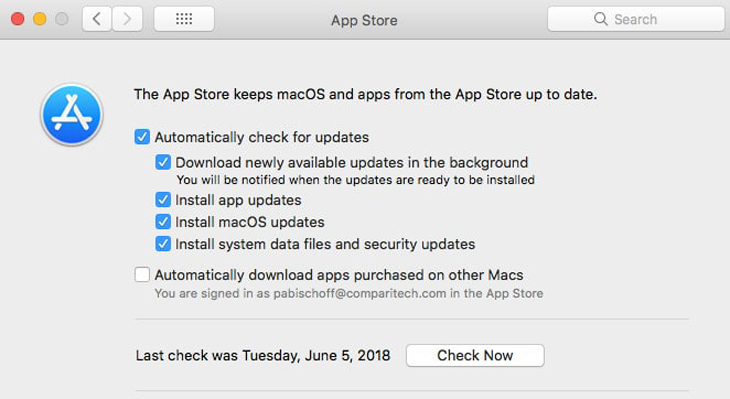 1. Intego Mac Internet Security X9
Built specifically for Macs, Intego Mac Internet Security X9 is not based on a Windows model, as is the case with many other software alternatives.
The software provides a location-based firewall and protection against malware attacks and information theft.
With Intego Mac Internet Security X9 you need about $55 for 1 year use.
2. Kaspersky Internet Security for Mac
Kaspersky consistently scores well with users in independent tests and has an accessible price tag of $23.99 for a year of use.
The highlight of this software lies in the content filter for parental control and webcam spying protection.
3. Bitdefender Antivirus for Mac
Bitdefender Antivirus for Mac is considered another cheap option (near here has been reduced to $58.49 for a year).
Some of the standout features are auto-setup for a set-and-forget network approach with a virtual private network (VPN), making VPN users more secure.
4. AVG Antivirus for Mac
Previously, AVG only provided antivirus solutions to Windows users, but now Mac users can also be protected.
Free features include protection against downloaded and online threats, real-time monitoring, drag-and-drop file scanning, and free malware removal.
5. Avast Free Antivirus for Mac
Mac users won't get as many features from Avast as Windows users, but still get access to the basics including real-time virus monitoring and blocking, wifi network scanning, unsafe website blocking, and block intrusive web tracking.
6. Avira – Another popular antivirus for Mac
Avira antivirus software for Mac detected 99% of Mac threats and 100% of Windows threats in AV comparison test, as well as 100% of threats Threat tested in AV-Test comparison.
The background speed test in another experiment was less expensive on system resources than Kaspersky, and its fast scan had the best times of all tested software. However, its full scan is quite resource intensive and has the biggest impact on the system of any software tested.
Conclusion
Most people will choose Avast or Avira to protect their Mac, because of its high threat detection, low system load, and completely free – factors that are hard to beat. However, if you are looking for maximum system performance, Bit Defender or Symantec will be the best choice for you. With many new types of threats being discovered over time and an explosion of malware, it's important to protect your Mac.
Tags:
Antivirus download
,
antivirus software
,
antivirus software for mac
,
avast antivirus
,
avast free antivirus for mac
,
avg antivirus
,
avg antivirus for mac
,
avira antivirus
,
Bitdefender Antivirus
,
bitdefender antivirus for mac
,
intego mac internet security x9
,
Kaspersky Antivirus
,
kaspersky internet security for mac
---
2 Comments
Marie - 22/10/2022 - 10:39 pm
How to download software for Mac, thank you.